Robert L. Pfeferman
Attorney at Law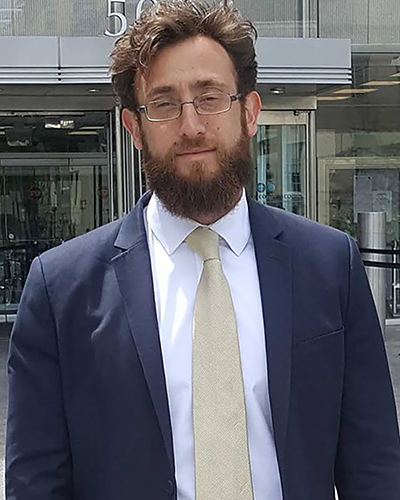 I am Robert Pfeferman, Esq., and I founded my law firm to provide individuals and businesses in Washington, D.C., with quality legal advocacy.
My firm's philosophy is built on client-centered legal advocacy and caring about my client and their case goals. Secondly, integrity. I offer honest expectations, clear communication, and a high-value work product. Next is a strong work ethic and tenacious pursuit of my clients' case objectives. Lastly, I am a Washington, D.C. native and I believe in service to my community beyond my practice of law.
I take a well-rounded approach to help my clients achieve their goals. In determining the right course of action, I begin with big picture questions, then narrow it down to get the fine details of my client's legal needs. Developing a strategy is a step-by-step process. I provide straightforward answers, timely responses and efficient solutions. This is critical because the statute of limitations places restrictions on the timeline for filing certain complaints or lawsuits.
In each case, my goal is to help the individuals or businesses obtain optimal results in the most efficient way possible. In some cases we get results through simple negotiation and in others litigation in courts or another legal forum is necessary.
I strive to provide personalized service. Your goals are my goals.
Experience
There is no substitute for an experienced attorney's perspective when it comes to resolving legal problems.
Working with a knowledgeable attorney can alleviate the stress your legal problem is causing and the uncertainty created by the myriad sources of information available in today's world.
I have represented hundreds of clients in all of the Washington, DC courts and administrative agencies. The results include millions of dollars obtained in verdicts and settlements as well as various forms of injunctive or declaratory relief. I have also represented various individuals, business, and organizations who are not involved in a dispute on advice with their legal concerns or to create essential legal documents.
Having an attorney's perspective means knowing solutions and remedies to disputes that are available in case law, administrative policies and statutes. It also involves placing a high value on the art of negotiating with the other party for achieving the best possible outcome. I draw on years of experience and a lifetime of connections to make the decision on the right course of action for your particular needs.
Biography
Born and raised in Washington, DC. I attended George Washington University and law school at the UDC David A. Clarke School of Law in Washington, DC.
While in law school I represented clients as a student authorized to practice law before several DC courts and administrative agencies as well as worked with the Orleans Public Defender Service in New Orleans assisting public defenders in their cases.
After law school I worked with the Maryland public defenders before taking positions as a contracting attorney with various large firms.
Since opening my practice I have represented clients in a range of civil litigation and criminal matters as well as legal work not in dispute, such as designing and drafting complex partnership agreements and advising businesses and institutions on their legal concerns.
Today I focus my practice on a small number of clients along a range of matters, including contract disputes, construction law, tort claims, landlord tenant disputes, real estate matters, civil rights claims, collections, consumer protection actions, business matters, insurance issues, international dispute resolution, government compliance, as well as many other types of cases.
Education
University of the District of Columbia, David A. Clarke School of Law, JD, 2012
Bar Admissions
District of Columbia, 2014
Work Experience
Attorney, Law Office of Robert Pfeferman

Attorney, Pfeferman & Mitkevicius, LLP - Public Interest Law Firm

Law Clerk, Office of the Public Defender Maryland